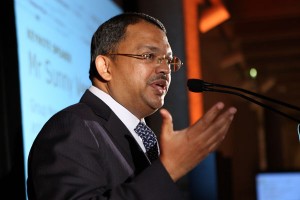 The Land | 04 Oct, 2010
ANDREW MARSHALL
THE Singaporean boss of fast-growing global agricultural commodities trader, Olam International, says his company won't buy genetically modified (GM) crops, but he thinks they are an inevitable "must" to feed a hungry planet.
"Our board of directors will not be involved in GMs, but I believe one way we can meet the food challenge is to adopt GMs as one of the solutions," says Olam's group managing director, Sunny Verghese.
Addressing the who's who of Australian agribusiness at this year's Rabobank Agribusiness Leadership dinner, Mr Verghese said China alone was increasing its food consumption demand by 20 per cent every year, yet for the past 15 years Chinese food crop production had been almost flat.
"In time we will see that GMs are the lesser of two evils and the world will embrace this technology to lift agricultural production rather than opt to go hungry," he said.
With world population numbers growing at 75 to 80 million people every year, he said the reality of food supply and demand couldn't be ignored, nor could the need for research investment into better food production efficiency.
Mr Verghese's 20-year-old company is the name behind a ballooning portfolio of Australian and overseas agricultural trading, farming and processing businesses, including Queensland Cotton, Western Wool in NSW, Mt Tyson Seeds in Queensland and 12,000 hectares of southern Australian almond orchards.
Olam began as a cashew trader, then moved into cocoa, coffee and spices, and now has suppliers, farms, factories and customers in 60 countries.
Mr Verghese said China was increasingly fulfilling its agricultural needs by importing more food - and saving its precious agricultural water resources.
About 20 per cent of Chinese agriculture's water requirements were now satisfied by imports of crop and livestock products grown using another nation's water reserves.
"China has 20pc of the world's population, but only six per cent of its fresh water," he said.
This year it imported soybeans for the first time - a scenario few could have imagined China doing 25 years ago.
China and India were extracting so much ground water to feed their thirsty industrial and agricultural sectors that ground water tables were dropping at the rate of three to six metres every year.
Increasingly water was also diverted to cities to supply industry and urban growth - today agriculture only accounted for 40pc of water use in China, Vietnam and India but enjoyed 80pc of water resources 30 years ago.
The emerging economies of Asia were not only eating more protein in the form of cereals, but also demanding more fat content in their diets.
Mr Verghese said Olam saw "sustainable value" in investing in agriculture.
Despite opportunities to diversify into other industries, the company maintained a strict focus on understanding and following agricultural commodities, which in turn gave it a close relationship with suppliers and the opportunity to find and support niche market opportunities paying premium prices.
He believed increasing opportunities for food and agriculture would foster a revival in research and development for the industry - including much more private capital.