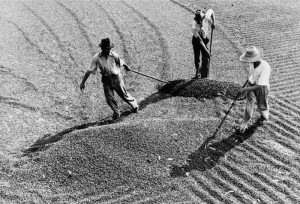 Bloomberg | Oct 2, 2010
By Lucia Kassai
SLC Agricola SA, a Brazilian farm group, plans to create an agricultural-property company and sell a stake to an investor this year, Chief Executive Officer Arlindo de Azevedo Moura said.
SLC, whose crops cover an area almost as big as Jacksonville, Florida, will seek to sell a 49 percent slice of the new company, Land Co., to local or foreign investors that may included sovereign and pension funds, he said today in an interview in Sao Paulo. Porto Alegre, Brazil-based SLC would retain control of the unit and contribute farmland.
"Agricultural land prices in Brazil have a tremendous potential to increase," said Moura, who declined to give a possible value for the stake.
SLC Agricola produces cotton, soybeans, coffee, corn and rice on about 223,000 hectares (552,000 acres) in Brazil. The company raised 308 million reais ($183 million) in an initial public offering in June 2007.
Shares fell 2 centavos, or 0.1 percent, to 18.64 reais at 2:11 p.m. New York time in Sao Paulo trading.