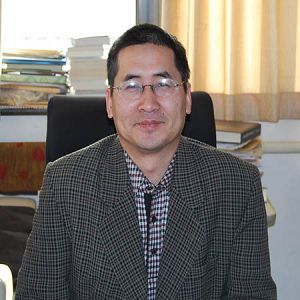 Global Times | September 12 2010
Editor's Note:
As the gap between grain demand and supply in China increases yearly, the world's largest country by population faces a direct threat to its food security.  Within the next 10 years, China may have to be reliant on imported food. What keeps China's grain production from growing, and what are the solutions? How will China's food security influence world markets? Global Times (GT) reporter Wang Yuan talked with Zheng Fengtian (Zheng), vice president of School of Agricultural Economics and Rural Development, Renmin University of China, on these questions.
GT: What does food security mean to China? What are the factors that threaten China's food security?
Zheng: For China, food security basically requires that the country has enough food to go around, or that its self-sufficiency rate of grain remains above 99 percent. China is among the countries with the most critical food security situation in the world.  Given the size of the Chinese population, it cannot rely on imports, because this would greatly drive up world prices. China's demand for grain is growing. For one thing, China's population is increasing. For another, a large percentage of the rural population has migrated to urban areas, and thus their diet has changed greatly. Urban residents consume much more meat then rural ones. As meat production is grain-fed, meat-based diets cost more grain than rural residents' traditional vegetable-based diets. However, although China's current self-sufficiency rate of grain is around 99 percent, the growth of grain output does not meet that of grain demand. The rapid urbanization around the country has caused a decrease of cultivated land, which has been a problem for a long time. Many local governments have a very strong urge to occupy farmland. And because of urbanization, huge numbers of people have moved from the countryside to the city, leaving fewer people to work on the land. Grain prices in China have also grown very slowly compared to other goods, so farmers have less enthusiasm for growing grain. Given that we will inevitably face more disasters caused by global warming, our future of grain output is looking bleak.
GT: What can we do to close the gap between demand and supply?
Zheng: Any change should rely on increasing China's domestic grain output. The most important thing is to invest sufficient resources in the construction of farmland irrigation and water conservation, which have been neglected for decades. This year, the drought and floods in China have caused a loss of hundreds of billions of yuan. The new construction should ensure that drainage could drain away water when it rains and farmland could be irrigated when there is inadequate rainfall. This would enhance the ability of farmland to cope with climatic disasters. Another important thing is to increase grain prices, then farmers will be more enthusiastic about growing food. Some argue that increasing grain prices will have a negative impact on the life of people in the cities, but it should not be a reason for keeping grain prices too low, and in fact the prices of other goods have increased a lot. Urban residents have a stronger capability to bear price fluctuations, and the government could provide poor urban families with appropriate subsidies.
GT: How about importing grain and food from the global market?
Zheng: Yes, another solution of narrowing the gap is importing food. But it can only be a supplementary solution. Relying on grain imports will lead to a rise of grain price in Chinese and global markets. For example, in the past, the price of iron ore in the global market is very low, but once China began to import iron ore, Australian iron ore producers greatly pushed up its price. The same happened to potash fertilizer. It's predictable that if China imports large quantities of grain, the main international grain dealers will raise grain prices. We cannot give up control over domestic grain prices to other countries or groups. China could adopt another option - Chinese grain production going global, which means that Chinese enterprises purchase cultivated land overseas, grow food and then transport the product to China. Last year I visited Brazil, and found that a great amount of land had been sold to US and European grain enterprises, the grain from which is then exported to other countries worldwide. Why don't Chinese grain enterprises do the same? Farmland is rare in China, but not in some other countries, such as the US, Brazil, Russia, Australia, Argentina and some African countries. Chinese enterprises could purchase farmland in these countries. For example, I have asked the US Department of Agriculture if Chinese investors could buy farmland in the US, and I got positive answers. In this way, Chinese grain price could escape the control of international grain enterprises. Now a few State-owned enterprises are doing so, such as the China Oil & Foodstuffs Corporation which has purchased cultivated land in Africa to produce biofuels. Since the strength of Chinese businesses is growing, the government should encourage more enterprises, especially private ones, to produce grain overseas, and carry out some preferential policies, like offering low-interest or interest-free loans, to aid them. Besides, the global market is not able to supply too much grain to China. There are still 1 billion people facing the threat of hunger, especially in Africa. And it's recently been reported that Russia has announced a ban on grain exports, and it's likely to push up food prices. Considering the volatility of the global grain market, most countries strive to maintain a high self-sufficiency rate in grain. The volume of the international grain trade is always low compared to other kinds of goods. It's too risky to rely too much on grain exports. For example, in the late 1990s, when the Asian financial crisis hit, many major rice exporting countries, like India and Vietnam, imposed bans on rice exports, and then the Philippines, which was highly dependent on grain exports, experienced severe troubles.
GT: Since it takes time to increase China's grain output, China will have to import more grain in the near future. Are there any efforts China could make to hold down global grain prices while it increases its grain imports?
Zheng: If China increases its grain imports, the effect of such a large country acting will be great - it will spark price fears, which is good neither for China nor the world. My suggestion is that China should try to become a shareholder in major international grain traders and producers. If China has a large amount of stakes in the four major international traders, Archer Daniels Midland, Bunge, Cargill and Louis Dreyfus, China could have a greater say in global grain prices.