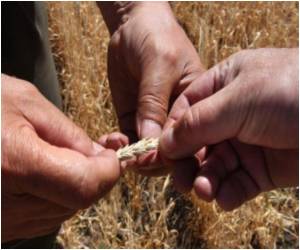 Agrimoney | 27 August 2010
Black Earth Farming has reported yields of some crops down by more than a half thanks to Russia's "scorching" heat, which US officials blamed for lowering the bar further on forecasts for the country's wheat crop.
Black Earth, which controls more than 300,000 hectares of Russian farmland, said that its spring wheat yield had fallen by 39% to 1.4 tonnes per hectare, the same as its spring barley result, down 53% year on year.
The yield on the spring rapeseed crop plunged by 57% to 0.6 tonnes per hectare, the group said, following the results of the first 128,000 hectares harvested.
"Scorching summer temperatures with excessive heat and ensuing drought conditions… negatively affected winter and spring crops during their final germination period," said Sture Gustavsson, the Black Earth chief executive.
Estimate slashed
The comments followed a cut of 9m-tonnes, to 41m tonnes, by the US Department of Agriculture's Moscow bureau in its estimate for the Russian wheat harvest – which last year reached 62m tonnes, overtaking America's.
"Drought and heat continues in European Russia, physically destroying the grain crop," the bureau said in a report, highlighting "drought-burned fields".
"Both yields and quality have decreased."
The revised figure is below the latest official USDA estimate, updated two weeks ago, of 45m tonnes.
It is also below the United Nations' 42m-43m-tonne estimate, and the forecast of 44m tonnes unveiled on Thursday by the International Grains Council.
Threat to plantings
The bureau made no mention of prospects for winter sowings, which are also being affected by the dry soil, and which are threatening to extend the country's grain woes well into 2011.
However, separately Russia's agriculture ministry said that plantings of winter-sown grains had reached 484,900 hectares, a little over half seedings completed as of a year ago.
While lost sowings are expected to be postponed until the spring, Black Earth noted that, with winter crops offered higher yields.
"Therefore a reduced area planted with winter crops will reduce the 2011 crop volumes," the company said.
Black Earth in the black
The group added that its own prospects had been improved, despite the poor yields, by raised price hopes, even though Russia's export ban has limited sales to the domestic market.
"The prospect of Russia becoming a net importer will have a material impact on the domestic pricing of grains," Black Earth said, adding that uncertainty over the release of state grain stocks was "adding to local market volatility".
"Price estimates for the 2010 harvest are in the range of 5,500-6,500 roubles ($176-208) a tonne," said the company, whose sales in the April-to-June period achieved an average of 2,771 roubles ($89) a tonne, down 22% year on year.
Nonetheless, a drive to hold down costs enabled the group to swing 42.6m roubles ($1.4m) into the black in the quarter, compared with a 397.8m rouble ($12.8m) loss a year before.
Black Earth shares closed 0.5% higher at SEK21.50 in Stockholm.
On the grain markets, Chicago wheat finished 0.3% higher at $6.64 ½ a bushel for September delivery.
Paris wheat finished 1.9% higher at E220.50 a tonne, with London feed wheat for the same month up 2.7% at at £152.00 a tonne.