Financial Express | 12 June 2010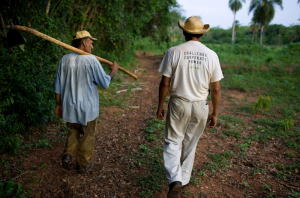 Huma Siddiqui
New Delhi: The issue of food security is likely to figure in the upcoming India-Southern Common Market (Mercosur) talks next week. One of the Mercosur members, Paraguay, is particularly keen on taking up the issue with India. Paraguay is a part of Mercosur, formed by Argentina, Brazil, Paraguay and Uruguay.
In the June 15-16 India-Mercosur meeting to be held in New Delhi, the deepening and widening of the India-Mercosur PTA will be discussed. Paraguay's ambassador in New Delhi, Genaro Vicente Pappalardo, told FE, "We want to increase the volume of our trade, particularly, the soybean import to India. In fact, a large agri-export company is already in advanced stages of discussions with the government and may announce its foray into the country shortly." According to him, India currently exports pharmaceutical, agricultural machinery, automobiles spare parts and spices to the Latin American country.
"We want to have joint-venture and technology-transfer agreement in communications, agriculture, food processing, ayurveda and biodiesel sectors. The potential for Indian businessmen to invest in our country, or form a joint venture with existing Paraguay players, is huge," he said. Currently, trade between India and Paraguay is worth only $20 million. A few Indian companies from the pharmaceutical and food-processing sectors have invested in the country to benefit from the free-trade zones and gain access to Latin American markets.
Paraguay's eagerness to engage with India on `food security' can be judged from the fact that it is ready to accommodate Indian interests by allotting a special quota in soya bean oil. "We have a special quota for soyabean oil and this will increase in the coming years," the Paraguayan envoy said.
According to Ficci officials, "Paraguay's economy is mainly based on agriculture, agri-business and cattle ranching. The country is ranked as the world's fourth-largest exporter of soybeans. Other agri products include corn, sunflower, cotton, wheat, tobacco and sugarcane. The country has vast tracts of arable land which could be used for agriculture. Thus, there is immense potential for investment and joint ventures in agri-business by Indian enterprises."
"A businessmen doesn't have to pay VAT (which is 10%) and is also exempted from excise duties for the first five years. Also, depending on the investment and the company, the government gives additional incentives. In addition to this, the tax burden in Paraguay is 9.9 %, compared with 21.4% in Brazil and 20.4% in Argentina," Pappalardo added.
He also said that considering the average cost of land, which varies between $800 and $1,000 per hectare and the availability of young labour (70 % of the population is below 30 years), Indian farmers will find huge opportunities to invest in the country.